Product shown: Twin XL Warren Island Bed in Walnut with Open Foot Rail
Characterized by clean lines, iconic furniture, and a perfect blend of form and function, this design aesthetic can transform your home into a stylish and inviting oasis. Let's dive into some key tips to help you achieve that coveted Mid-Century Modern look!
Use Natural Materials
At the heart of Mid-Century Modern design is an appreciation for nature's beauty. Opt for furniture and decor crafted from natural materials like wood, leather, and metals. Woods like walnut, teak, and rosewood were particularly popular during the mid-century era. By integrating these materials into your room, you can achieve an authentic Mid-Century Modern ambiance that exudes warmth and sophistication. Our selection of solid wood furniture serves as an excellent foundation for embarking on this design journey.
Play with Colors
Mid-Century Modern design isn't afraid to make a statement with color. Embrace both vibrant and earthy color palettes to capture the essence of the era. Experiment with bold hues like mustard yellow, teal, and burnt orange, while maintaining balance with neutral shades such as gray, white, and brown. The juxtaposition of bold and understated colors is a hallmark of this style.
Product Shown: White Acadia Daybed with 2 Storage Drawers
Statement Lighting
Pay special attention to your lighting fixtures, as they can truly enhance the Mid-Century Modern aesthetic. Look for fixtures with clean lines and sculptural shapes that create a focal point in your space. Sputnik chandeliers, globe pendant lights, and tripod floor lamps are excellent choices to add that authentic touch.
Wall Art and Prints
Elevate your walls with captivating art and prints. Abstract art, graphic prints, and bold patterns were highly popular during the mid-century era and can add a layer of visual intrigue to your home. Don't be afraid to mix and match different art pieces to create a gallery wall that reflects your personal style.
Nature-Inspired Elements
Mid-Century Modern design has a deep affinity for nature. Incorporate elements of the outdoors into your interiors through indoor plants or large windows that let in abundant natural light. This connection to nature not only enhances the overall ambiance but also creates a sense of tranquility and harmony.
Transform Your Space with Mid-Century Modern Style!
By following these tips, you can effortlessly transform your home into a Mid-Century Modern oasis that balances retro charm with contemporary sophistication. Let your creativity shine as you embark on this exciting journey to create a timeless and captivating living space that pays homage to an era of design excellence.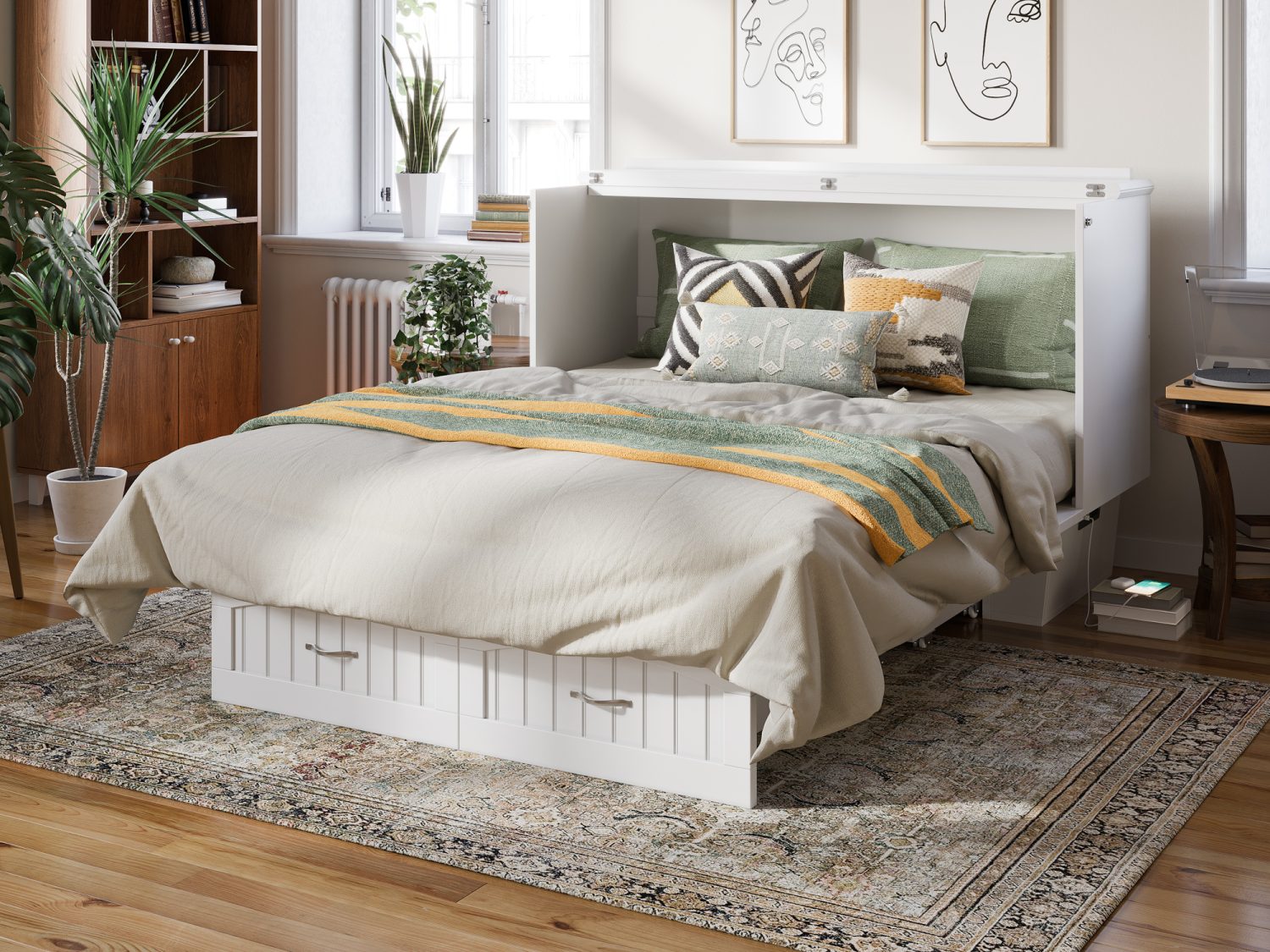 Product Shown: Queen Nantucket Murphy Bed Chest in White